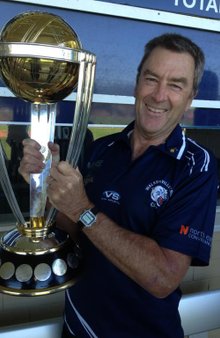 Bruce Mayberry Medal Past Winners
2022/23 - Connor Riley
2021/22- Alex Harriss
2020/21- Alex Nankivell
2019/20- Sachith Anjana
2018/19 Jacob Markey
2017/18- Julian Morena
2016/17 - Damian Miller
2015/16 - Julian Morena
2014/15 - Leo Panzarino
2013/14 - Leo Panzarino
2012/13 - Leo Panzarino/Craig Jervies
2011/12 - Darcy Wright
2010/11 - Leo Panzarino
2009/10 - Shaun Mathieson
2008/09 - Daniel Powell
2007/08 - David Farrell
2006/07 - David Farrell
Bruce has been part of the Cats for over 25 years as a player and over 10 years on the committee. During his committee times Bruce was president for 3 Years, Secretary for 3 yrs.
As a player Bruce has played 242 games making 4,296 runs and taking 101 Wickets. Bruce also spent 5 years as the C grade captain and was just recently awarded the 25 Year Service award from A.T.C.A.
Bruce has been a gentleman on and off the field and as all the players listed below know, it is a privilege to receive the Bruce Mayberry B grade medal as voted by your peers.